The U2 PSA (Posterior Stabilized Augmentable) Revision Knee system can be used with various augments and extension stems to restore joint stability and address bone loss, allowing surgeons the possibility for an optimal solution for each individual patient.




Tibial insert
UHMWPE

XPE
E-XPE
XPE

Different tibial insert material options are available including standard UHMWPE, XPE (Highly Crosslinked Polyethylene) and E-XPE (Vitamin E Highly Crosslinked Polyethylene).
Low constrained type
For intact ligament function and minor bone defects.


Multiple femoral and tibial offsets and stem options are available to help achieve optimal component positioning.
Offset adaptor : 2, 4, 6 mm offset
Straight stem length: 30, 75, 100, 150, 200 mm
Curved stem length: 150, 200 mm

A full range of femoral augment options for bone defects are available
Distal & posterior augments: 4, 8 mm thickness
Distal augment only: 12, 16 mm thickness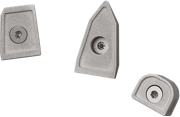 A full range of tibial augment options for bone defects are available
Augment thickness: 5, 10, 15 mm


Improved design for optimal function
Enhanced Post-Cam Engagement
Early post and cam engagement (40° flexion) for improved joint stability.
Jump height distance is 21.4 mm to reduce potential for dislocation.
Controlled Femoral Articulation
The femoral component is designed to allow up ± 3.7° of internal/external rotation.
Varus/valgus lift-off is limited to ± 1.4° for increased stability.
Reinforced Femoral Locking Screw
The C-Ring design on the femoral locking screw is intended to prevent loosening/backing out.
Proprietary Tibial Locking Screw
A Built-in reinforcement metal bushing and locking screw within the tibial insert extends into the baseplate. Designed to provide additional structural support and to against shearing force from the femur.